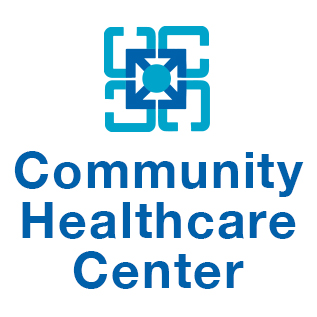 It's that time again! Calling all Baby Spartans! Bring along your lucky parent/guardian/adult!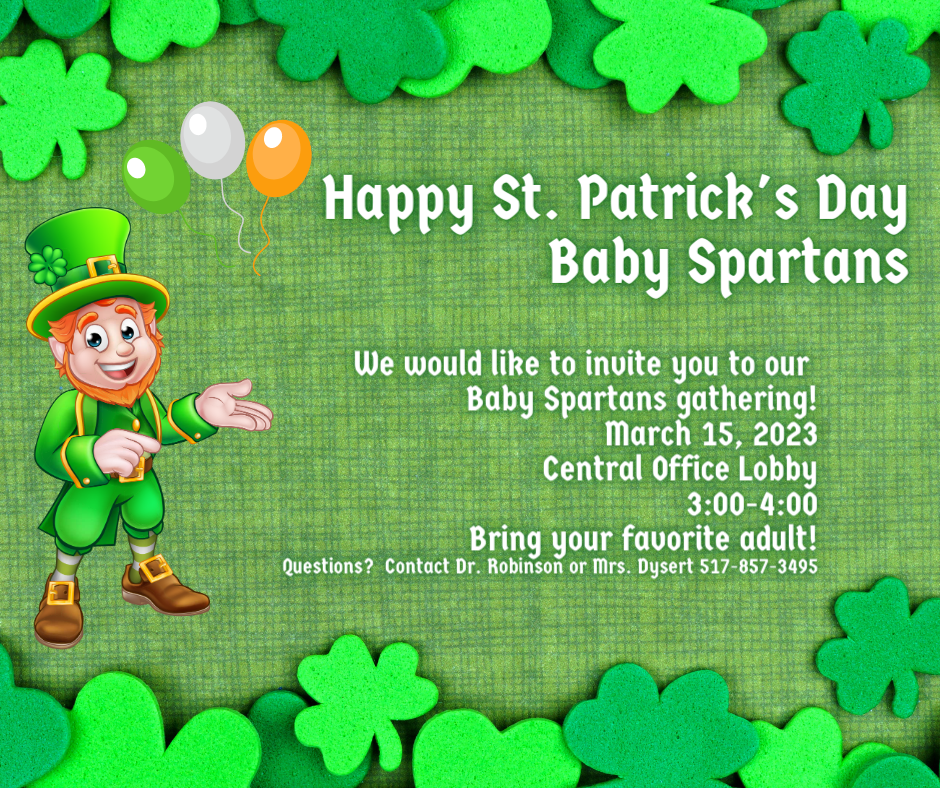 Springport Public Schools are closed Thursday, February 23, 2023. Stay safe and warm!

Springport Schools will be closed today due to weather! Stay safe today!

February 7, 2023 Response to the Threats against Schools AG Nessel Reminds Residents of Potential Punishments for Making Threats Against Michigan Schools LANSING – Michigan Attorney General Dana Nessel reissued a video today that highlights the seriousness of making threats against schools after four local districts were the targets of swatting.​ Swatting is defined as a prank call made to emergency services in an attempt to​dispatch ​law enforcement to a particular location. Michigan State Police have reported that K-12 schools in Detroit, Jackson, Ann Arbor, and Okemos have been the victims of the prank calls this morning. "Threats of violence in our schools disrupt the classroom, tax our local law enforcement agencies and harm our students' sense of safety," said Nessel. "Whether these are real threats made by those intent on doing harm or pranks made by kids trying to get a day off, they are real crimes with real consequences. It's critical that adults and students alike understand the seriousness of these threats and the criminal charges they could face." In the video, Nessel explains the potential charges one could face if they make a threat of violence, which include: communicating a threat of terrorism, 20-year felony; calling in a bomb threat, a four-year felony; malicious use of a telecommunications device, a six-month misdemeanor; and threatening violence against school employee or student, a one-year misdemeanor. Additionally, swatting could result in the following charges: false report of a crime, a 93-day misdemeanor; false report resulting in physical injury, a 5-year felony; false report resulting in a serious bodily impairment, a 10-year felony; and/or false report resulting in a death, a 15-year felony. In addition to serving time in jail or prison, those that are found guilty of these crimes can face fines of up to $50,000.00. The video can be viewed on the Department of Attorney General's YouTube page. If you receive a threat or know of a threat of violence against your community, please contact your local law enforcement. You can also leave a tip with the state's OK2SAY hotline by calling 8-555-OK2SAY (855-565-2729) or texting 652729 (OK2SAY). The hotline operates 24/7 and protects the confidentiality of the reporter's identity. OK2SAY, which is housed within the Michigan State Police, provides for confidential reports of potential self-harm, harm to others, or criminal acts including, but not limited to, sexual abuse, assault, or rape, directed at students, school employees, or schools in this state.

Bus 314, Tammy, will not be running this afternoon or Tuesday. Automated message are being sent ASAP.

Good afternoon, we have a couple of bus updates to share: Bus 111 (Driver Dean) will not be running this week Monday, Tuesday and Wednesday. Possibly not running Thursday and Friday. Bus 119 (Driver Janice) will not be running this entire week. Thank you for your patience. If you are interested in driving please stop by Central Office, we would love for you to join the team!

We are thrilled to announce that SPS will be partnering with SPD to implement a school resource officer. The district was just awarded the grant today, we have work to do with the PD to get things going. We are looking forward to this opportunity!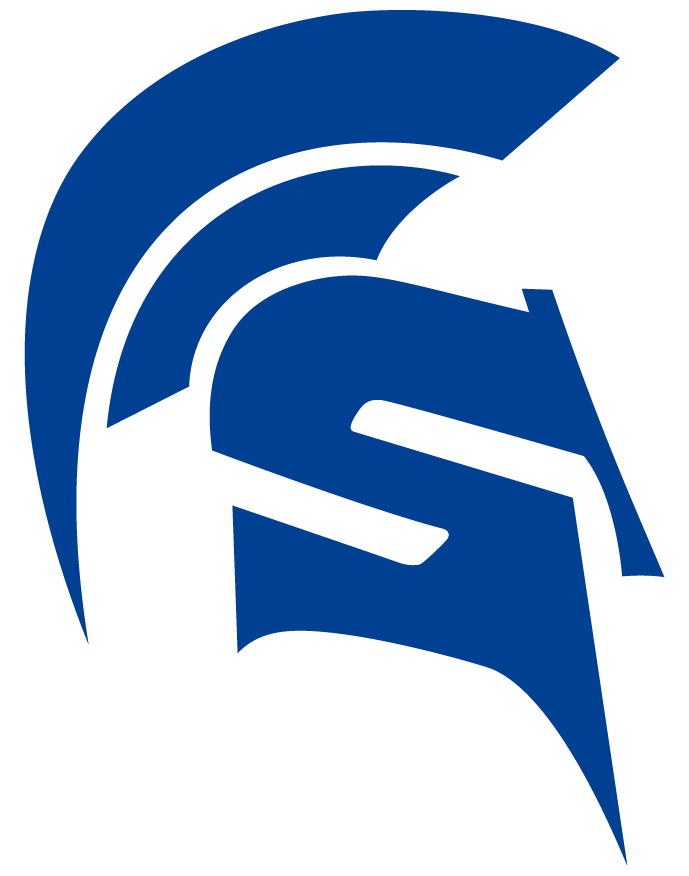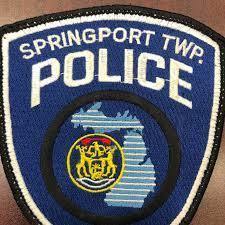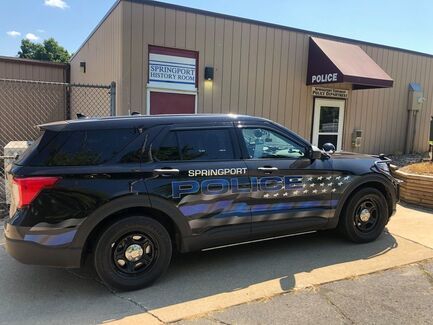 Good afternoon! It was nice to have our kids back in school today! Everyone returned with new energy and enthusiasm. We have officially started second semester, if your student had outstanding grades he/she should be working with their teacher(s), all final grades should be wrapped up tomorrow. A few ideas: *We are looking a board member. Unfortunately one of our members had to step away from the board. The vacancy would be through to the next election cycle. *The elementary school will be welcoming a reading tutor 5 days a week through the Americorps program. We look forward to working with Jeff Wilkinson and the Americorps team. *We were awarded a grant to get our Robotics Team up and going!! If your student is interested in joining the team have them stop by and see Mrs. Spear at the HS. *We are excited about the possibility of starting an ESports Club in the future. Stay tuned for more information. *Our FFA is reving up for their competition season. We look forward to seeing the great projects and outcomes they produce. I hope you had a blessed holiday season! Welcome back! Go Blue!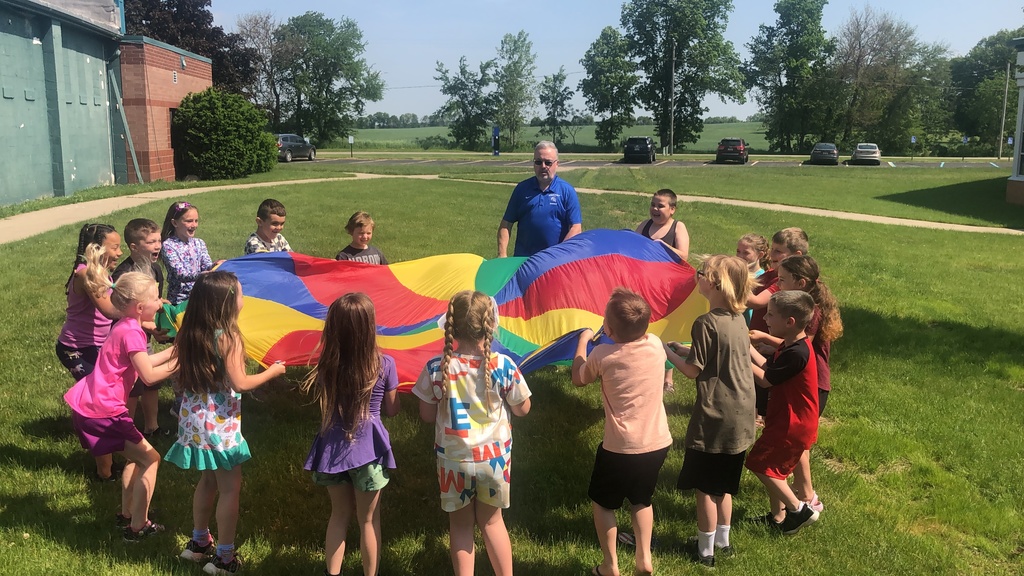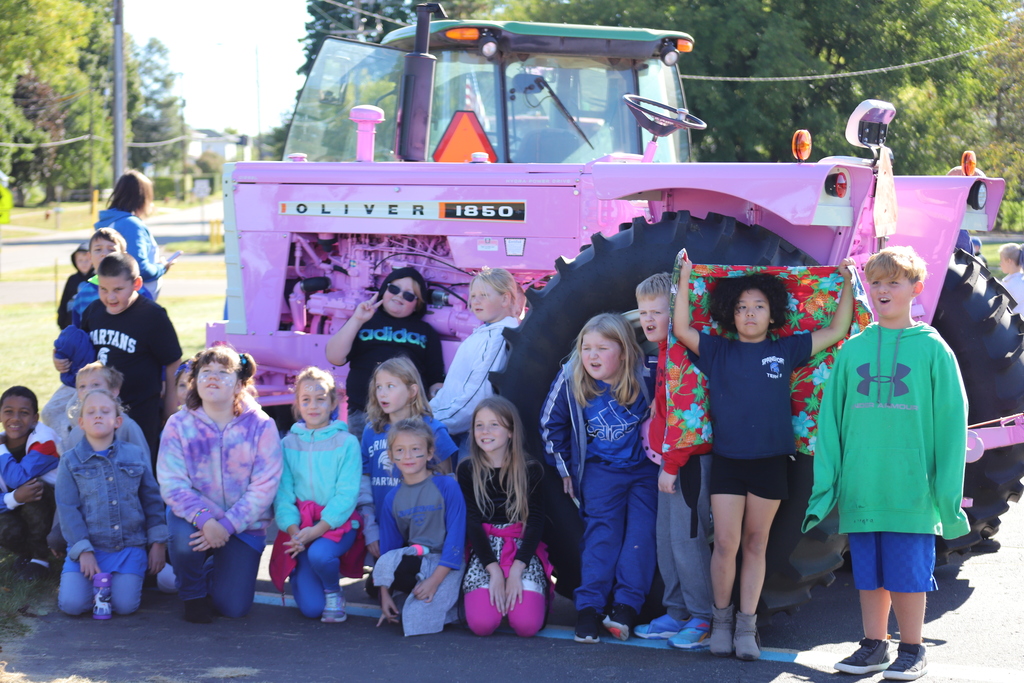 Join us for a fun family night!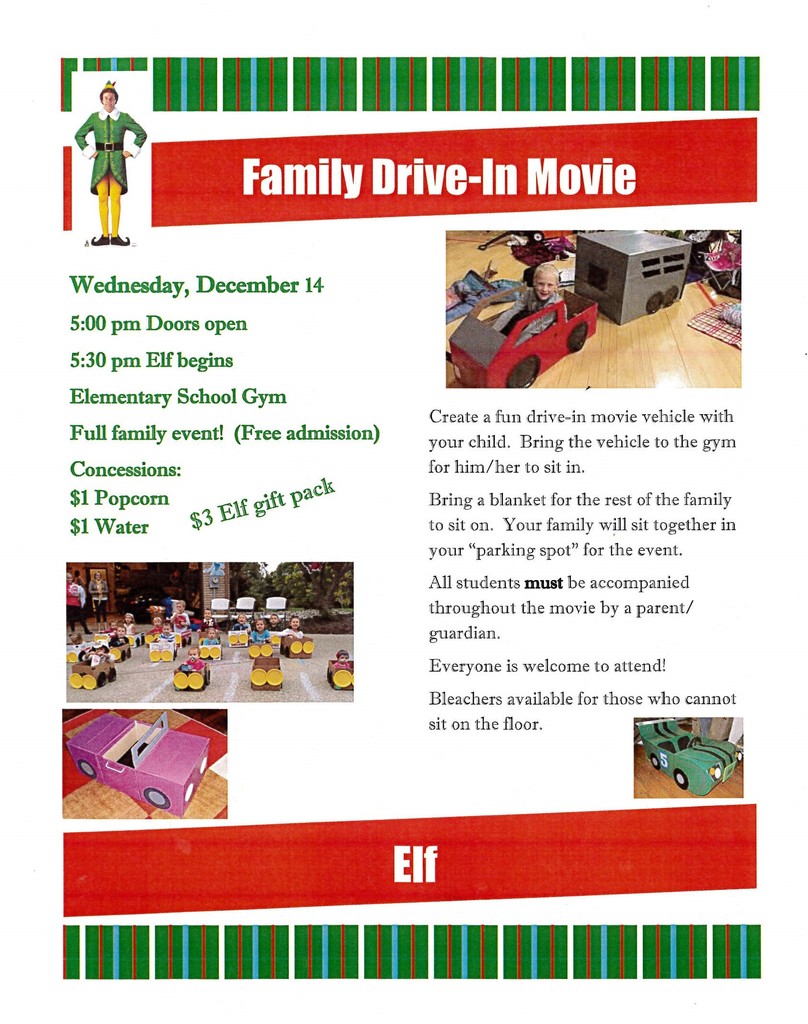 Good afternoon! A friendly reminder that we do not have school the remainder of the week. On behalf of the staff of Springport Public Schools we send our warmest wishes to you and your family! Happy Thanksgiving.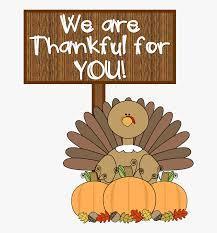 Good afternoon, As we move through the school year it is important to gather feedback from the community. Please take a few minutes to complete the Superintendent's Performance Survey. We appreciate your input!
https://forms.gle/KRcEaPfaArM3dMwz8

Good news Springport! We are back in business tomorrow! See the attached message for more details. ~Dr. Robinson **Still NO devices or use of school internet until further notice!**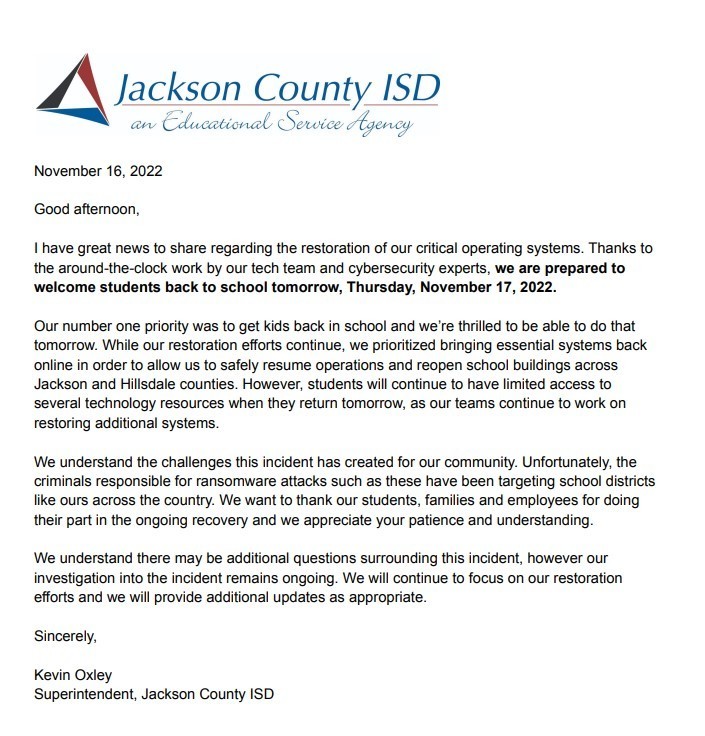 Attention Springport Friends and Families We will be closed, Wednesday, November 16, 2022. See the attached for details. ~Dr. Robinson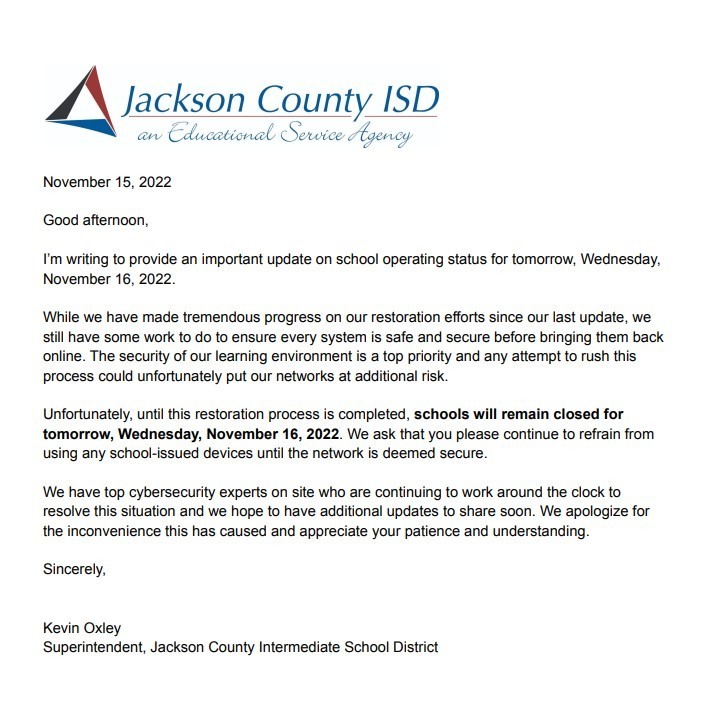 Springport Family and Friends Thank you for your patience as we work through these technical issues. We do not have any updates at this time. ~Dr. Robinson

Attention Springport Friends and Families, We will be closed November 15, 2022. Please see the attached letter for more information. ~Dr. Robinson

Friends and Family of Springport, Please pass this information on to others. We cannot use the automated system to communicate. Students and Staff SHOULD NOT use their computers or attempt to access the school's internet. Thank you for your help, Dr. Christie Robinson Superintendent Good evening, Over the weekend, our technology consortium suffered a systems outage. The outage affected critical operating systems in the district, including but not limited to heating, telephones, and classroom technology. Jackson County ISD technology staff is working to fully investigate the disruptions and to restore affected systems. Because this will take some time, superintendents from both Jackson and Hillsdale counties have determined the best course of action is to close schools for tomorrow, Monday, November 14, 2022. We understand the difficulties this decision may cause, and appreciate your understanding and patience as our technology team works around the clock to get our systems back online and our students back in school. We will provide more information as it becomes available. Sincerely, Kevin Oxley Superintendent, Jackson County Intermediate School District

The Affordable Connectivity Program is a Federal Communications Commission program that helps connect families and households struggling to afford internet service. This new benefit provides a discount of up to $30 per month toward broadband service for eligible households and up to $75 per month for households on qualifying Tribal lands. Eligible households can also receive a one-time discount of up to $100 to purchase a laptop, desktop computer, or tablet from participating providers. Eligible households can enroll through a participating broadband provider or directly with the Universal Service Administrative Company (USAC) using an online or mail in application. You can learn more about the benefit, including eligibility and enrollment information, by visiting
www.fcc.gov/ACP
, or by calling 877-384-2575.

Veterans Day Celebration November 11, 2022 This is a personal invitation to all of our Veterans and Active Service Personnel. On Friday, November 11, 2022, Springport Public Schools will host an assembly to honor you, thank you and teach our students that freedom is never free. The program will begin at 8:30 am in the High School Gym. There will be coffee and donuts for our honorees and guests in the High School Library starting at 7:30 am until we escort you to the gym for our pogram. Please feel free to share this with any Veterans, family members and or friends. Thank you!


If you are looking for high quality FREE reading for your child the county has a great event coming up!