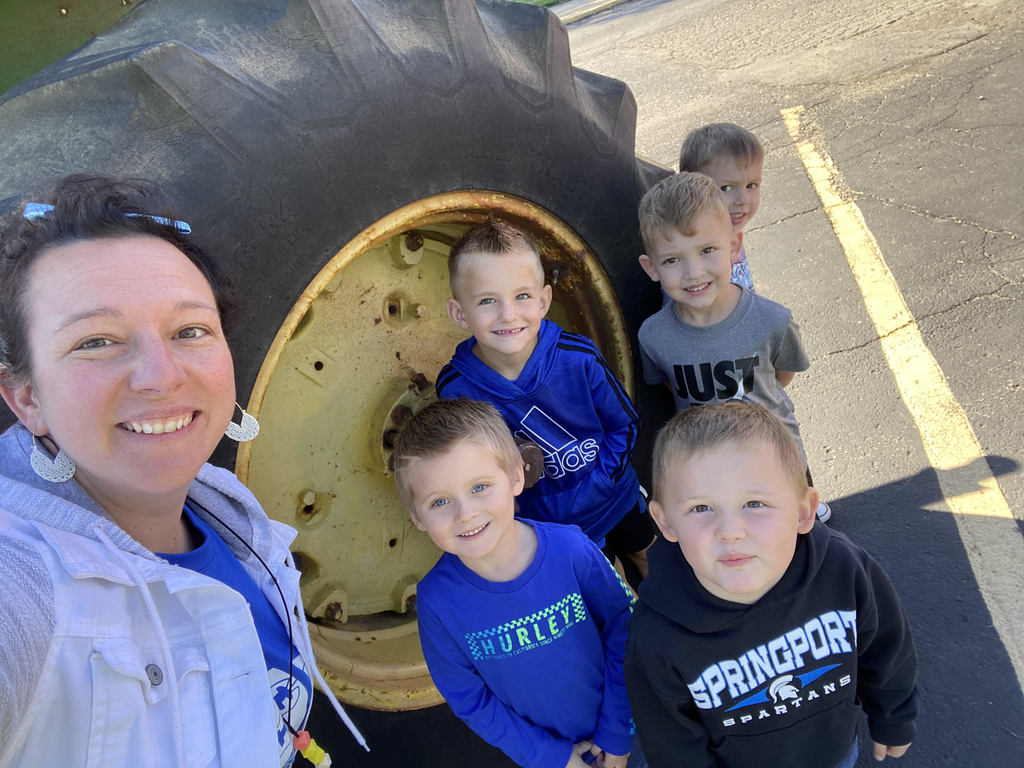 Hello everyone, We are short volunteers to work at the home sporting events. We could use your help! Please click on the following web link (or copy it into your web browser if clicking doesn't work) to go to the signup sheet: volunteersignup.org/LF7HF To sign up, just follow the instructions on the page. It only takes a few seconds to do. Thank you for volunteering! Christie Robinson
christie.robinson@springportschools.net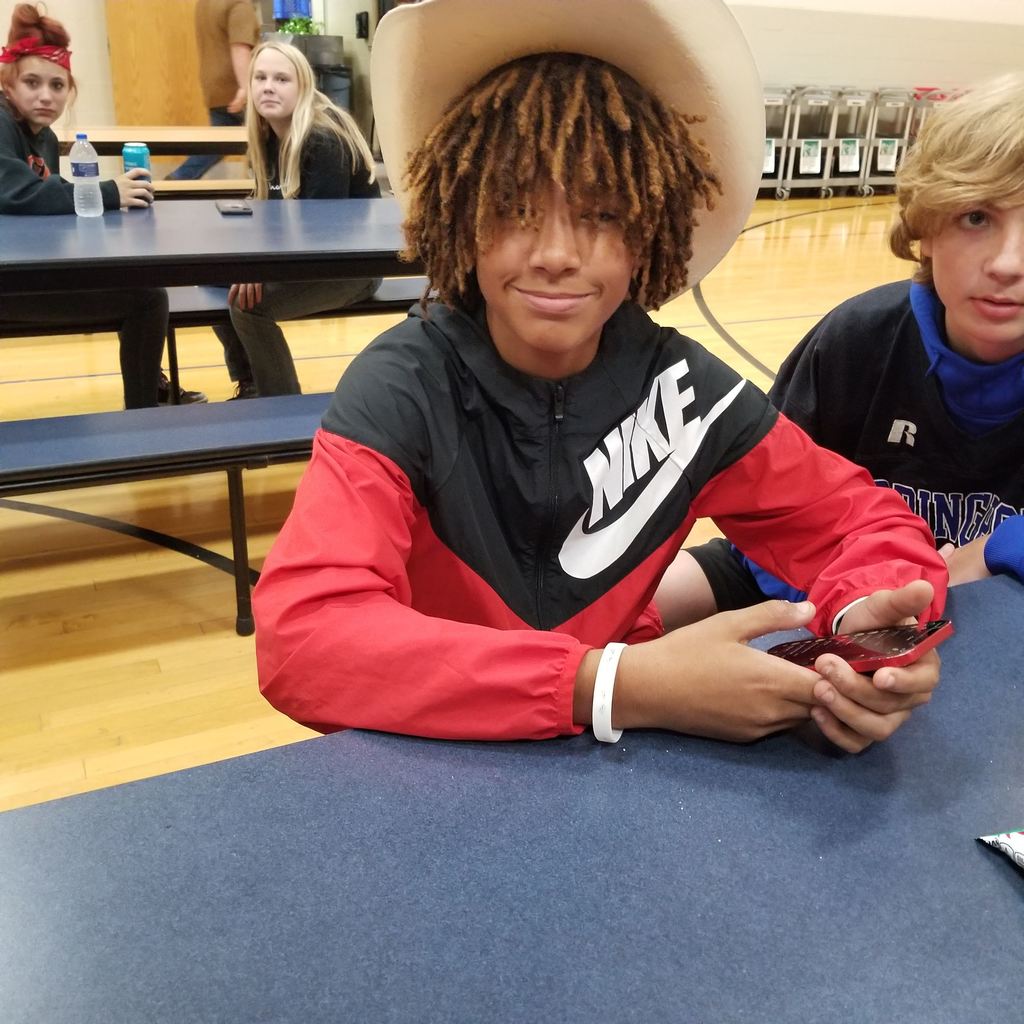 Winterfest Update! Game Theme: Red Carpet Dance Details Semi-formal Saturday, February 12th - after the game until 11:00 pm in the cafeteria $5.00 entry fee Pizza provided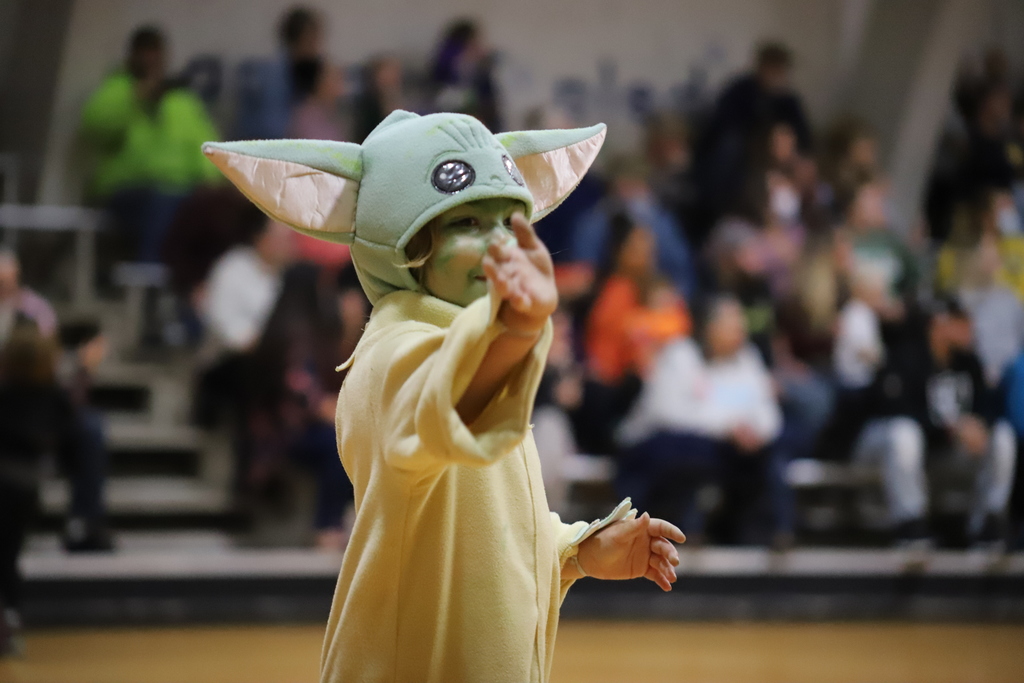 Winterfest games and festivities have been rescheduled for Saturday, February 12. Please see the attachment for details.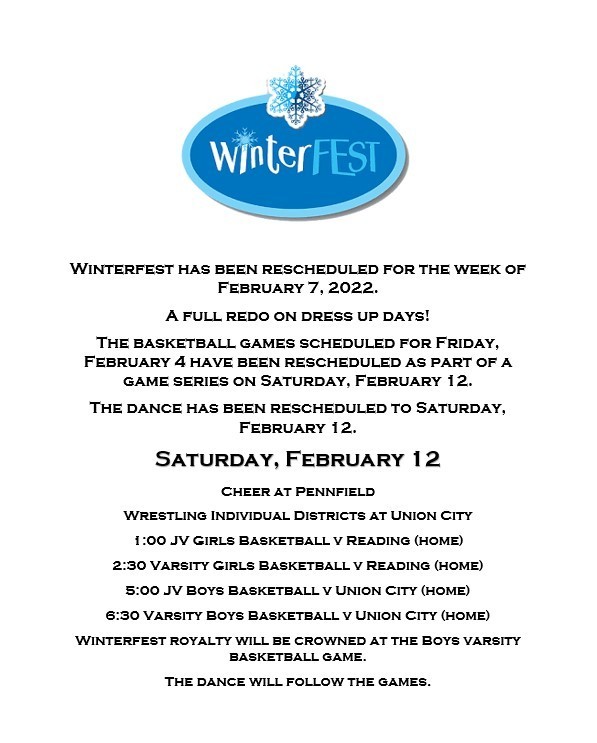 Springport Schools are closed Friday, February 4, 2022 due to road conditions. Winterfest details coming ASAP. Stay warm Spartans!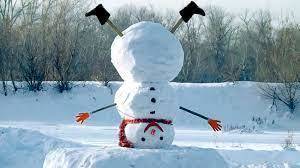 Happy Monday Springport friends and families! January 31, 2022 Updated Covid Guidelines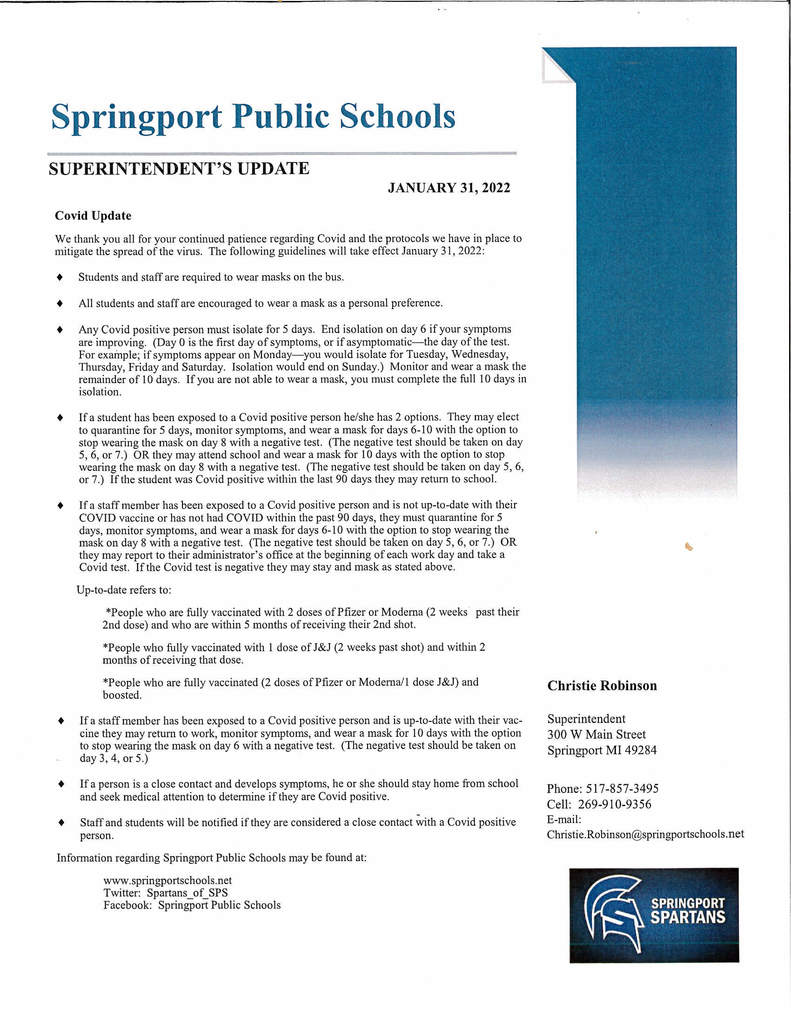 Thank you all for your patience as we worked through our shelter in place. Chief Lincoln has given us the all clear to release students. The buses are pulling around to load our kids. Ms. Kuntz and staff will be greeting you shortly!

We have received the all clear from the Police Dept. and are releasing students at this time. Students will be going home as normal just delayed.

We are currently in a Soft Lock Down, Springport Police are processing a Raid and wanted the School to be on Soft Lock Down as a precaution. Students will not be released until we receive an all clear from the Police Dept.

Happy Friday! We hope you and your kids have had a great week! Our number of absences have been climbing this week due to a variety of illnesses. We appreciate your continued help keeping kiddos who are sick at home to rest. Attached you will find information regarding ESSER funds!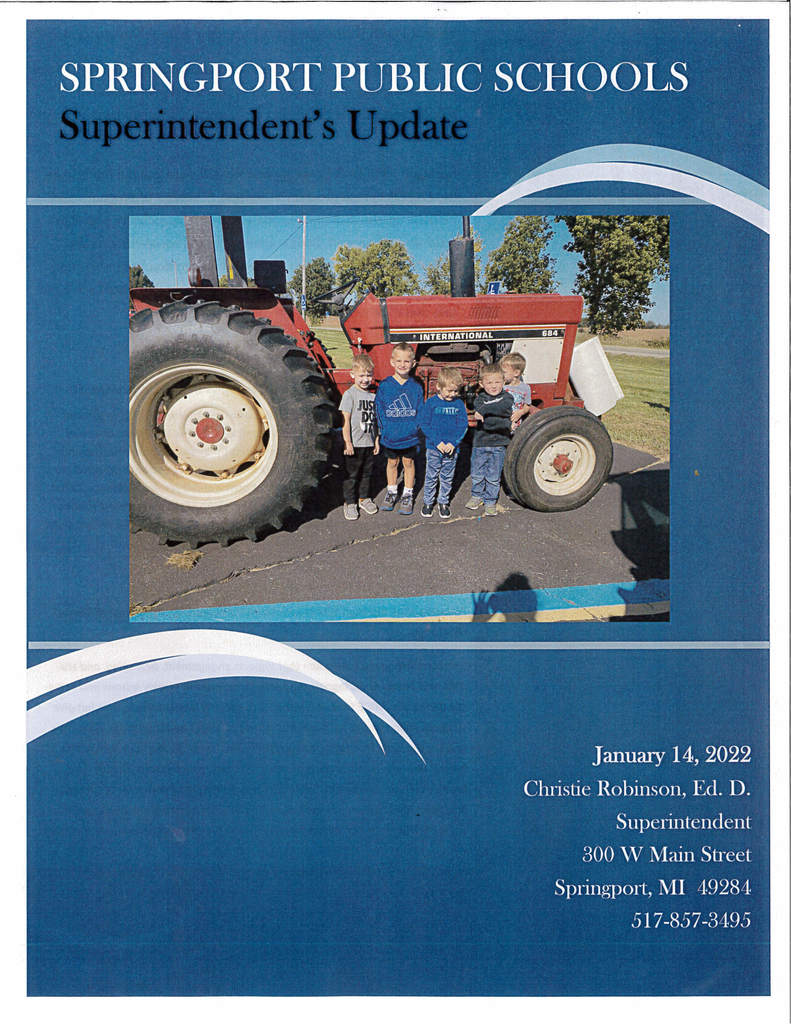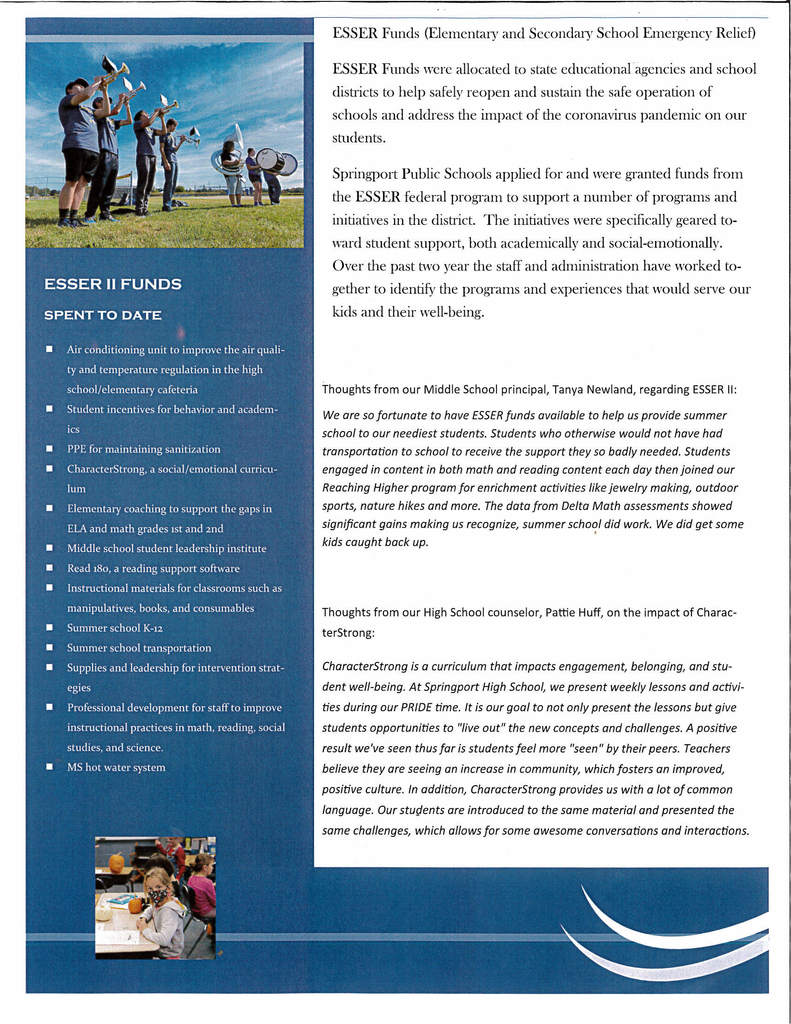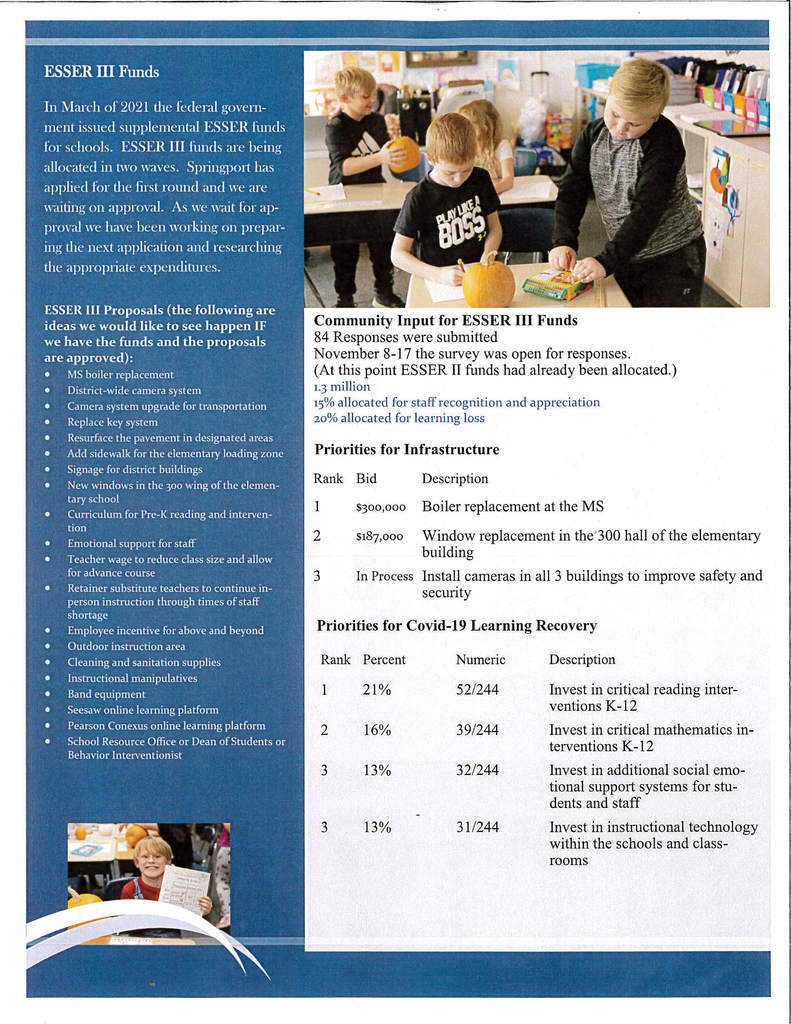 A reminder......... any and all threats of violence toward the school will be taken seriously. The district cannot tolerate any type of threatening commentary whether it is through social media, text, art, or conversation. It is imperative for the mental and physical well being of our staff and students any such statements are reported to an adult and then to the district or police department. We appreciate your help.

Dear Springport Families This message is to inform you that we had a student who has been referred to law enforcement due to comments which were threatening in nature. There will be a press release later this afternoon but we thought it was important you were informed first. We appreciate your support during these difficult times and ask that you encourage you children to say something if they hear or see anything that makes them uncomfortable. Please understand we are not able to disclose additional information. Christie Robinson

Good afternoon! I hope you and your family are well. We have had an uptick in our Covid cases over the past couple of days. Remember, if your child is not feeling well and you are debating about having him/her tested, please do not send them to school. We have had a few cases where families knew their child was sick but waited to test them after school. We appreciate your help.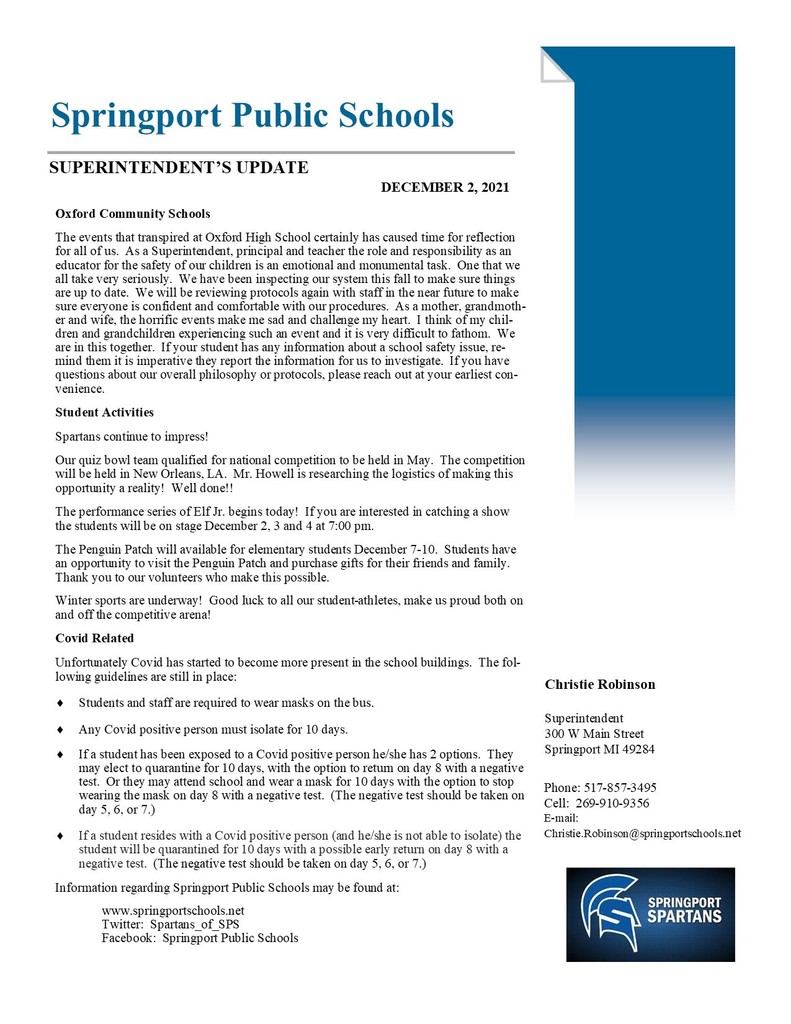 Our hearts go out to the victims and their families, as well as all the Oxford students and educators who'll carry yesterday's with them for the rest of their lives. Sending our support to you all!

Our varsity team had four really tough and close matches. We inched past Union City in our first match of the day. Next, we handled business in a rematch of the championship from 2019. Next we survived against an extremely smart Bronson team, barely escaping with the win. Finally, after a knock out drag out fight in the championship, we edged out Jonesville for our third straight championship. Be sure to congratulate thise years team on their win, especially our two seniors who will end their high school careers as undefeated and 3 time Champs. This year's team consists of Abby Losey Caleb Wendt Isaac Isham And seniors Bryant Taylor Ben Butler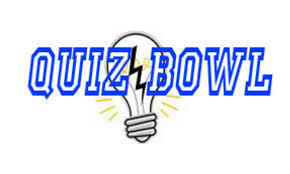 Congrats to our 8th Grade Quiz Bowl team who took 2nd at the Big 8 Bowl competition!!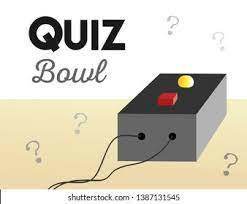 We are seeking input from stakeholders regarding the Elementary and Secondary School Emergency Relief funds allocated to Springport schools. Please complete the survey with your thoughts.
https://forms.gle/rdm6J2FXHoBegL6P7

Happy Friday Spartans! We hope you have a wonderful weekend!